今天是北印度婦女既自虐又最愛的節慶___月亮齋戒日(Karwa Chauth),又是一個來自印度教的節日,舉辦在印度曆八月月圓之日後四天,不過來源有很多版本所以就不再此贅述了。
Today is Karwa Chauth, the festival derived from Hindu religion, especially be renowned in northern India, "Karwa" means earthen pots while 'chauth' means the fourth day. Karwa Chauth is celebrated on the fourth day of the Hindu lunisolar calendar.
來到印度之前,以為忠於禁食的信仰大概就是伊斯蘭教了,幾個月前才剛辦完盛大為期一個月的Ramadan(伊斯蘭齋戒),沒想到來到印度之後,才發現他們的禁食節日更多,房東媽媽三不五時就跑來跟我說,今天因為哪個神明生日,所以她必須禁食幾天,一滴水也不能沾。每次我都覺得不太好意思,因為講完之後,房東媽媽就跑進廚房開始煮她今天可是一口都不能碰的印度料理給我們吃…
Before India, I was ignorantly thought that only Muslims will do fasting, like Ramadan, till now, I started to realized how many Hindu festival combine with the ritual doing fasting. Every time Antie always unpredictably tells me that the day is the birthday of one of their Hindu god, so she has to do fasting for some days, expect being surprised to this, I always feel a bit embarrassed because after that, Antie will still needs to make the food for us, even if she isn't allowed to eat.
不過今天很特別的是,只有已婚的婦女才需要禁食,而且禁食的原因並不是哪個印度神,而是為了她們心愛的丈夫。前天晚餐結束之後,禁食就開始,除了進行印度Puja(印度教祭拜儀式)外,得一直等到這一天月亮升起後,婦女必須拿著平常做烤餅的篩子,先透過它注視著月亮,再轉移至丈夫面前,象徵「把神聖的月光轉移到丈夫身上,希望丈夫活的長長久久」,才能解除一整天的禁食。
During Karwa Chauth, this is an occasion where predominantly married women in northern India are seen fasting from sunrise to moonrise for their husband's long life and well-being, this is an only occasion doing fasting not because of their God, In the evening, a puja is organised where women exchange earthen pots filled with sweets, bangles and clothes, then when the moon rise, women should take the earthen pots, staring at the brighten moon first, and continuously switched the earthen pots to their husband, represent as they take the power of moonlight to their husband and wish them live longer, after that, fasting will finally break.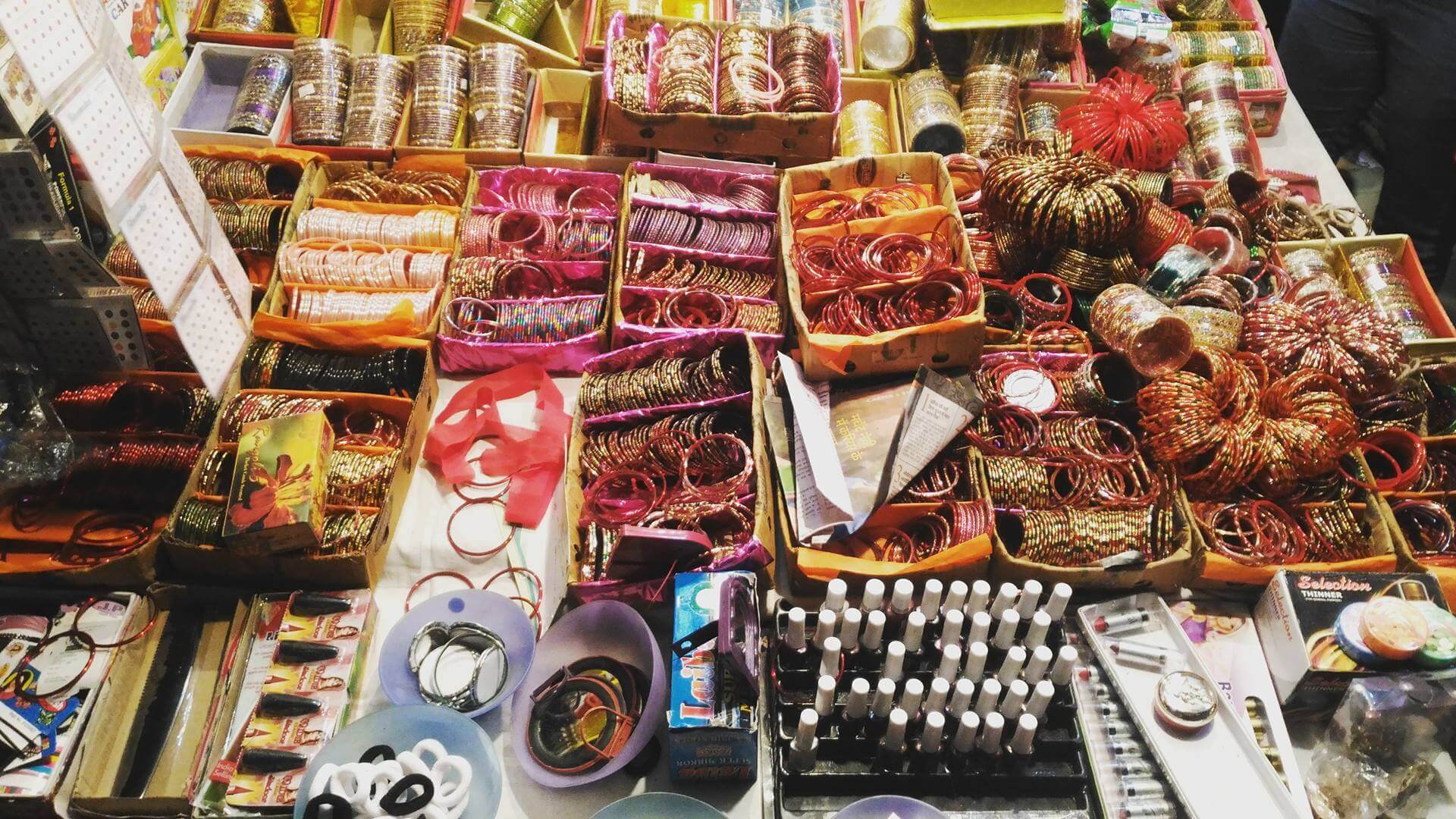 老實說我聽到這個節慶後有那麼一瞬間,正義感大爆發,為北印度已婚婦女老是這樣犧牲自己成就丈夫感到忿忿不平,怎麼反而沒有聽說有節慶是倒過來,丈夫必須為太太禁食,以求太太身體平安健康呢?不過晚上和女孩們走了一趟城區後,才慢慢地開始有種感受,今晚的氣溫只有十度,但是仍看到許許多多已婚婦女畫著完整妝容與全套飾品,當然還有讓人目不轉睛的華麗莎麗,頂著寒風偎著先生走在路上等著月亮出現。和今夜這些印度閃光們舉頭望明月的當下,我才明白,相對於結婚後大部分婦女只能在家相夫教子,日復一日的守著家,煮著三餐等待丈夫工作回來,在漫漫婚後的日子裡,一年終於有這麼一天,她們能好好打扮成自己最美也最想要的樣子,展現給自己最心愛的人看。
To be honest, after hearing this festival, my sense of justice broke out at that time, feeling irritable for this culture, Indian women sacrifice too much to men in this country, I have never heard about there is some festivals in Indian which are celebrated opposite, husbands will do fasting for their wife to live longer. But when I was walking in the town with my roommates, I slowly have some strange feelings, that time was only 10 degree in Shimla, but I was still seeing lots of women having complete make up on their face and whole decoration on their body, also, wearing the awesome Saree or suit which can make your eyes fixed, it was so cold then, but they still wore that this, holding the arm of their husbands and waiting for the moonrise. While seeing the moon with those Indian couple together, I started to have a strong feeling in my mind, compare most of married women used to spend the rest of life in their house, making the food, raise their children and waiting for their husband coming back from work, now they finally have one time in a year, dressing up themselves becoming the woman who they really want to be, and show the most beautiful part to their love, their husbands tonight.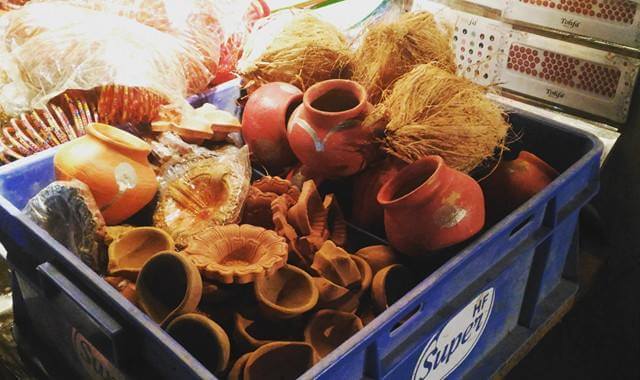 後來,走在回家的路上,女孩對我說,其實如果你還沒結婚但是已經有心愛的男朋友,你一樣可以為他禁食,但不同的是,你不需要等到月亮出現,只需要看到星星就可以了。(但女孩堅持要等到月亮出現,殊不知我們住在山上,看到月亮的時間本來就比平地的人還要晚,結果她等到當地時間晚上9:30才解除禁食,我則早已經扒了兩碗飯,餓死)
On the way going back to PG, "actually even though you haven't got married but already had your boyfriend, you can also do fasting for him if you want." The girls said. "But you don't need to wait for the moon rise, only need to wait for the star show up." And she really did it for her military boyfriend, and finally broke her fasting when she saw the moon at 9:30PM, that time I've already ate two times for rice, for me, I think having a healthy body is more important than any other thing lol.
◇註:
(1) 西姆拉人喜歡在這一天聚集在Mall road等月亮出現,聽說這裡是這一帶最先看到月亮的地方。(我開玩笑的說,因為他們太餓了,想趕快看到月亮開始大吃特吃XDD)
(2) Karwa Chauth前一天,原本什麼都沒有的空地突然冒出了好多販賣飾品的攤販,在這一天,必備的妝容一定要有Sindhu, Bindi, Bangles(手環), Mehndi(印度紋身), Linear…恩…女生的錢真的是到哪個國家都好賺XD